In 2003, Innovative Engineering Solutions opened its new testing facility in Murrieta, CA. The Murrieta Test Facility is a 4-acre, full-service test facility, providing test support over a wide range of customer requirements. Our Engineers are capable of interpreting your unique requirements and tailoring a test program to meet your goals. We have the expertise and the facilities to develop and perform most types of tests that will meet your R&D, qualification and production testing needs. These include: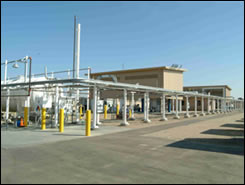 Environmental Testing:

Cryogenic (LN2, LOx, LH2, LHe)
Vibration Testing
Thermal/Thermal Vacuum
Humidity

Structural Testing
Leak & Proof Pressure Testing
Large and Small Scale Development
Mechanical/Physical Properties Testing
Electrical Testing
Unique Fluid Systems
Our primary cryogenic testing fluids include liquid nitrogen (LN2) and liquid hydrogen (LH2). These two cryogenic fluids are used for both low temperature exposure and fluid flow/proof pressure testing. Additionally, we are experienced with liquid helium (LHe), liquid oxygen (LO2) and liquid natural gas (LNG) testing. Our structural testing capabilities include component level testing, with the experience and equipment to perform small and large scale structural testing programs. Combining our cryogenic, environmental and structural test capabilities, we can tailor a program that is sure to meet your test needs.
In addition to providing the test environment, we can also provide the

instrumentation services

necessary for accurate results. We maintain a calibrated inventory of pressure, flow, temperature, stress/strain, force, and displacement measurement transducers. We employ several PC-based data acquisition systems including LabVIEW™ and Axis/Orion. We are compliant with ISO 17025 and ANSI/NCSL Z540.1 standards and all calibrated test equipment is traceable to the National Institute of Standards and Technology (NIST).
Our diverse resources afford us the ability to support our customer's wide range of test requirements. The staff of knowledgeable Engineers and Technicians can assist you in designing and implementing an innovative solution for your test program to fit your economic and scheduling needs.
Here at Innovative Engineering Solutions, we convert complex requirements into a test program that will yield cost effective results.