Engineering Services > Analysis
Innovative Engineering Solutions provides heat transfer, fluids, and structural finite element analysis services to support clients with their design development, verification and production processes. Our experience with all analysis issues associated with developing a product or system helps reduce the number of prototypes and tests necessary to assure a product or system will meet requirements. In addition, we are capable of directly applying the results of analyses to hardware design, evaluation testing and process optimization.
Thermal Heat Transfer Analysis

IES has extensive experience with heat transfer analysis of thermal systems for aerospace, electronic, medical and industrial applications. Computational codes used by IES include SINDA-G™, SINDA-3D™, Thermal Analyzer™ and Flotherm™.
Aerospace Hardware
| | |
| --- | --- |
| | Examples of thermal heat transfer analyses completed by IES include: developing electronic enclosures for Navy and Air Force telecommunication equipment, specifying cryogenic insulation systems for NASA space vehicles, evaluating composite structure performance, designing helium-fluid cooling systems for super-conducting magnets, and optimizing fluidic heaters for medical device equipment. |
Aerospace and Industrial Fluid Systems Analysis
IES personnel are recognized in the aerospace industry for their understanding, analytical skills, and testing capabilities of space launch vehicle propulsion, propellant management, and other fluid systems. Specific examples include: propellant tank pressurization systems, propellant slosh, low gravity and zero gravity fluid management devices and methods, propellant feed systems and cycles, and cryogenic fluid management including liquid hydrogen and liquid helium systems.

IES also has broad industrial fluid systems expertise in areas such as: hydraulic and pneumatic systems and controls, CFD analysis of liquids and gases using Fluent™, design of industrial fluid systems, alternative fuels and fuel delivery systems, and custom turbo-machinery.

Structural Analysis

The structural integrity of systems and components subjected to static and dynamic loads is evaluated with computational tools including ANSYS™ and CosmosWorks™. Computer Aided Design (CAD) models in AutoCAD Mechanical Desktop™, SolidWorks™ and other standardized design tools link directly to the analysis codes reducing the time and cost of evaluations.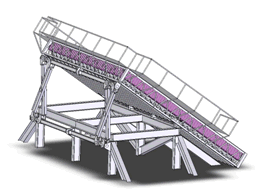 Working closely with each client, we establish product, component, and system design requirements - providing the basis to optimize design for cost and performance. IES has used these tools in the design and fabrication of rocket engine test stands, structural load fixtures, and other custom hardware designs.